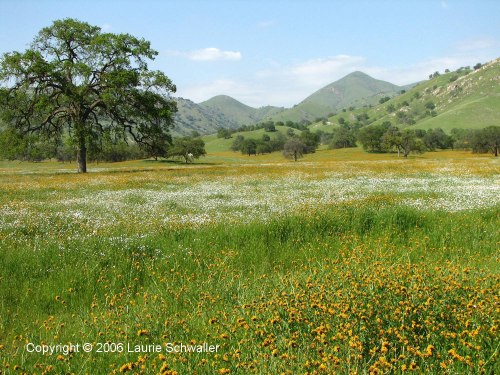 WHERE IS YOKOHL VALLEY?
AND WHY IS IT SO SPECIAL?

Yokohl Valley, named after a band of Foothill Yokuts people, is located in the Sierra Nevada foothills, east of Visalia and Exeter, and south of Lake Kaweah. This part of Tulare County is varied in terrain and vegetation, containing steep slopes, expansive valleys, waterways, oak woodlands, stands of sycamores, grasslands, chaparral, rare vernal pools, and wonderful wildflowers. Here where the foothills begin to rise above the level land, pleasing the eye and providing habitat for a myriad of plants and animals, humans have traveled and lived for many centuries.

Over 30 important Native American sites, some dating back thousands of years, have been documented in Yokohl Valley, including significant rock art areas, four major village sites, unique rock slides (like playground slides), ceremonial cupules, gathering and processing sites, bedrock mortars, and several burial grounds. Many of these are world-class in the quality of their artifacts and information, and all of them are sacred to the descendants of these early Native American residents, many of whom still live nearby and continue to visit their ancestral homelands.

During the 1700s and 1800s, Spanish soldiers and missionaries passed through Yokohl Valley, and the Spaniards may have done a bit of mining in the area. The Yokodo Yokuts mined soapstone near Lindsay Peak, and they mined magnesite on Badger Hill, which they used to make a whitish-gray paint. The Yokodo called Badger Hill Hawshau Shido, "Paint Place," after the magnesite mine. The mine was located where the Badger Estates water tanks now stand. The Yokodo Yokuts also made a pure white pigment from white clay that a southern tribe mined on the White River. White pigment was valuable and the Yokuts traded these commodities throughout the San Joaquin Valley. Exeter's Rocky Hill, called Chahkah Shahnau, "Live Oak Place", is still an important site for contemporary Yokuts, who consider it the historic start of Yokohl Valley.

In the mid-19th century, ranchers started grazing cattle and sheep in Yokohl Valley, and descendants of two of these original families are ranching on their homeplaces today. One of the original ranch houses is now over 120 years old, and still in use. Parts of old schoolhouses and several homestead foundations and chimneys also remain.

In a meadow in Jordan Flat, the cabin of Wiley Hinds still overlooks the valley. Born into slavery in Arkansas in 1836, Wiley Hinds in the 1850s worked his way to California, and by 1868, he had saved enough money to buy his first 80 acres, in the Horse Creek drainage, and to build his cabin. Eventually, he helped another black rancher, Arthur Barron, to acquire 160 acres just south of the Jordan Flat ranch. At the turn of the last century, the Catron cabin was built, where the Boswell Company's ranch manager Harvey Ruth spent much of his time, at the head of Wells Creek.

The Jordan Trail, constructed by John Jordan in 1862, is still visible in many areas of the valley, until the old trail climbs steeply up Blue Ridge while the paved road switchbacks more slowly up the long grade. Cattle were driven over this toll trail from the Central Valley across the Sierra and down to Independence and the Coso silver mines in the Owens Valley on the eastern side of the range. Jordan's descendants settled in several locations throughout Yokohl's central valley, and their descendants continue to hold summer reunions in Mooney Grove.

Amazingly, much of the Yokohl Valley area still looks much as it did 150 years ago, and still provides a home to many native species of plants and animals, including several that are threatened or endangered. Annual grasslands, meadows, chaparral, upland areas, rocky outcroppings, cliffs, riparian corridors, vernal pools, foothill pine, and oak woodlands provide habitat for wildlife ranging from western pond turtles to the more expected denizens such as deer, coyotes, mountain lions, bobcats, opossums, skunks, and raccoons.

Bedecked with their spring fairy rings of flowers, the valley's vernal pools host unique fairy shrimp. Western spadefoots live here, too, along with special plant species such as spiny sepaled button celery and Kaweah brodiaea. Every year for a month or two, carpets of pink, purple, blue, white, yellow, orange, and red line the little road through the valley and up the hill as popcorn flower, fiddleneck, lupine, Chinese houses, fairy lanterns, Madia, monkey flowers and farewell to spring bloom in their brilliant succession against the green grass that turns so soon to summer gold.

Yokohl's wonderful birdlife includes ferruginous hawks, golden and bald eagles, merlins, prairie falcons, long-billed curlews, burrowing owls, loggerhead shrikes, horned larks, purple martins, mountain bluebirds, vesper sparrows, and tricolored blackbirds, along with many more commonly seen and enjoyed species that frequent the area. Often you will hear the beautiful song of the western meadowlarks, and sometimes the whistling calls of the curlews in flight. Additionally, Yokohl adjoins the Blue Ridge National Wildlife Refuge, established to protect a traditional roosting site of the California condor. For thousands of years, Yokohl Valley provided critical foraging habitat for that magnificent bird. Gazing up from Yokohl's grasslands, one can readily imagine the sight that the Yokuts saw daily and that could be seen here still until just 25 years ago: birds that are among the biggest in the world soaring silently overhead, high over the valley's plain, the stream, the great rocks, the trees, the rugged hilltops, high against the white clouds, then vanishing into the blue.

Locals and visitors alike, bicyclists, motorcyclists, hikers, runners, wildflower enthusiasts, nature lovers, historians, artists, photographers, birders, connoisseurs of California's scenic byways, and anyone who craves a glimpse of the old West will savor a visit to Yokohl Valley. With its splendid, unspoiled, ever-changing vistas, Yokohl's winding rural road has been marked for designation as an official county scenic route for decades.

Stop on your journey to listen to the quiet and to marvel at the beauty and the lives and the stories that have been nourished through the centuries by this treasure of Tulare County.

Frequently Asked Questions
WHAT IS YOKOHL RANCH?

The J.G. Boswell Company (operating as the Yokohl Ranch Co. LLC, out of San Diego), wants to turn over 36,000 acres of Yokohl Valley into a new city of 30,000 people, living in 10,000-houses, with three golf courses, a 550,000 square foot commercial center, a resort and private recreation facility up Horse Creek, a new dam to create a water storage facility (with the water to be pumped over from the Kaweah River), a wastewater treatment plant, many new roads (including one coming down the Horse Creek canyon to Highway 198 at Lake Kaweah), a new utility line corridor running from Lindsay, and some public service facilities (e.g., police and fire substations, a school, etc.).
WHY DOES THIS AFFECT ME?

The proposal to build a new town of 30,000 people on what is virtually undeveloped ranch land affects everybody in Tulare County. Preliminary environmental impact studies prepared for the Yokohl Ranch project list 73 potentially significant impacts to our air, water, wildlife, agricultural land, and cultural heritage. Development of this proposed new town will impact water supply, air quality, traffic, schools, and police and fire services. The proposed development will affect not only everyone who walks, bikes, or drives through Yokohl Valley, but also those in nearby communities, as the new town could attract investment dollars and businesses away from our existing towns.
DON'T WE NEED YOKOHL RANCH TO HOUSE TULARE COUNTY'S GROWING POPULATION? WON'T IT RELIEVE DEVELOPMENT PRESSURE ON PRIME AGRICULTURAL LAND?

No! Tulare County can easily accommodate all the growth projected over the next several decades within the existing development boundaries of its current cities, communities, and hamlets. A study prepared by Tulare County's consultants found that a population increase of over 950,000 people - considerably more than we're expecting within the next 20 years - can be housed within our existing development boundaries without increases in density.
Yokohl Ranch is not being designed to meet Tulare County's housing needs, but to be marketed to buyers from outside areas looking for relative bargains in high-end housing. Thus, it would not "save" farmland on the valley floor from development. The key to meeting Tulare County's housing needs, preserving valley floor agricultural lands, improving our air quality, diversifying and strengthening our economy, managing our water supply and quality, and maintaining our open space is to promote cost-effective, resource-efficient development located where jobs, infrastructure, transportation, and services already exist. This is a much healthier alternative to rural sprawl and the destruction of our air-, water-, and viewsheds and our foothill agricultural and tourism economy.
WHAT ABOUT PROPERTY RIGHTS? SHOULDN'T BOSWELL BE ABLE TO DO WHATEVER HE WANTS TO WITH HIS LAND?

In California, for many decades, zoning has been a primary factor in protecting property rights and property values. Yokohl is zoned for foothill agriculture (such as grazing). Your property values and quality of life are protected by zoning, which keeps your neighbor from pursuing incompatible land uses next to your property (e.g., I can't turn my residential-zoned property into a casino, a gravel pit, or a hazardous-waste disposal site next door to your residence). Zoning lets us know what to expect and enables us to plan effectively, by directing various land uses to designated appropriate locations. If Boswell wants to build houses in Tulare County, he should do so on land zoned for residential development, and already supported by nearby jobs, transportation, services, and infrastructure.
WHAT CAN I DO TO HELP?
Stay informed! This issue is frequently covered in the Valley Voice and Visalia Times Delta. Check back at this Website for future updates.

Contact your elected officials to let them know you oppose revising current zoning laws to permit development of new towns like Yokohl Ranch. It's never the "wrong" time to contact your Supervisor or Assembly person and let them know you oppose the construction of new towns in Tulare County.

Attend public hearings, and speak up on these key issues!


Timeline
Following is a timeline of events related to the proposed Yokohl Ranch development. It will be updated as new devolpments occur.
February 2006: A request by the Yokohl Ranch Company, LLC to initiate an amendment to the Tulare County General Plan to allow the Yokohl Ranch team to proceed with its land planning efforts goes before the Tulare County Board of Supervisors. An alert is sent to encourage concerned citizens to attend the Board of Supervisors hearing. Over 200 people show up at the hearing. The Board of Supervisors unanimously approves the Yokohl Ranch Company's request.
February 2007: The Yokohl Ranch Company submits a formal application to the County for a General Plan amendment to add a Planned Community Zoning Ordinance. This application is in anticipation of developing Yokohl Valley as a Planned Community.
March 31, 2007: Op-Ed piece published in the Visalia Times Delta — Yokohl plan doesn't fit Tulare County
February 21 2008: A public meeting at the Visalia Memorial Building to discuss the General Plan Update and Yokohl Ranch development. A platform for a responsible growth General Plan is introduced, and attendees are encouraged to include these points, and/or their own vision for the future of Tulare County, in a letter to the Board of Supervisors.
March 3 2008: Tulare County holds a Yokohl Ranch scoping meeting in Exeter, where citizens are able to submit input regarding issues to be addressed in the Environmental Impact Report. Over 150 people attend.
March 14 2008: Comments on the Notice of Preparation for Yokohl Ranch are submitted.
April 6 2008: The Unitarian Universalist Fellowship of Visalia hosts a presentation on the General Plan Update, Yokohl Ranch, and smart growth planning.
May 10 & 11 2008: Volunteers set up a Yokohl Ranch informational booth at the Three Rivers Redbud Festival. 150 people sign up to Save Yokohl Valley.
July 2009: Artist Mona Selph of Three Rivers initiates an art show at Arts Visalia, "Views of Yokohl Valley," featuring works by local artists depicting many aspects of the valley.
November 7, 2009: An information booth at the first-ever Kaweah Land and Arts Festival, held at Tulare County's Kaweah Oaks Preserve. features a Healthy Growth Alternative for the General Plan Update; the importance of our oak woodlands; and the Boswell Company's proposed Yokohl Ranch development (and its 10,000 home Eastlake development in San Diego County, which is necessitating the construction of a new freeway to handle its traffic).
January 13 - February 26, 2011: "Yokohl Valley Revisited" art show is presented at the Tulare Historical Museum, featuring the work of many local artists in various media inspired by this historic, productive, diverse, beautiful, and very threatened part of Tulare County.
February 20, 2011: Rob Hansen, COS professor of ecology and biology, talks about "Yokohl Valley Natural History: Past and Present" at the Tulare Historical Museum, providing a sense of the regional significance of the grasslands, oak woodlands, ephemeral stream (Yokohl Creek) riparian habitat, and vernal pools that captivate so many local travelers, recreationists, photographers, and landscape artists.
Photo Gallery
This?
These photographs of Yokohl Valley were taken in April, 2006.
(Place cursor over photo and click for enlargement. Click your browser's "back" button to return to this page.)
This?
These photographs of Boswell's Eastlake development in San Diego County were taken in July, 2007. Eastlake is a development of 10,000 houses (the same number as intended for Boswell's proposed Yokohl Ranch development in Yokohl Valley). The photos show only a small slice of the residential development (you can't begin to get an idea of how many houses it takes to make 10,000 from the ground; you have to fly over). A new freeway (toll road) had to be built to accommodate the tremendous traffic from the development.
(Place cursor over photo and click for enlargement. Click your browser's "back" button to return to this page.)
Last Spring in Yokohl
Write it
the voice said, the one
inside my head
at dawn. Oh no
the one outside my head
said in reply,
too late.

Write it so even
the most complacent of us
will feel the loss, will want
to drive that old
one-and-a-half lane road
one last time
before it's improved
before it's disappeared

beneath the weight of heavy equipment:
bulldozers, graders, backhoes
and things I don't even want to know
the names of, beneath the press
of what some folks call progress,
under the heel
of the invisible boot.

Write it for all the settlers
who once tried to make that valley
home. Write it for the school children
who learned their three R's right there
beside the windmill, just across
from the dynamite shack. Write it
for Joe Ely the barber, the last
Yokodo born on that land
who never slit a white man's throat
despite the opportunities. Write it
for yourself, despite the agonies
of facing that land's demise
so when it's gone you won't
slit your own.

Write it even for the cyclists
who fly across the landscape
too fast to see
except when pumping hard
uphill.

Write it so the big men
will feel some guilt. Write it
so the cowboys and ranch hands,
the ones almost out of a job,
will feel honored. Write it so
the tragedy of too much
money power land
in ignorant hands
will be clear
as day.

But don't just write it
a third voice said somewhere between
inside and out, within the gray zone dividing
dark and light. Sing it, she said compellingly,
a suggestive note in her voice
modulating up half a step.

Sing it sweet
for the meadowlarks
warbling on rusty barbed wire.
Sing it soft so there's no hard line
between you and them. Sing it long
until no reservations remain whether to move
or stay put and lose. Sing it clear so there's no
second guessing, no second opinions, no
second chances for those with dreams
of developing that valley
by destroying it.
Sing it, she said
so I will.

By Trudy Wischemann.
Reprinted by kind permission from Dry Crik Review



Page updated July 10, 2011.